Rare 15th Through 18th Century Design Book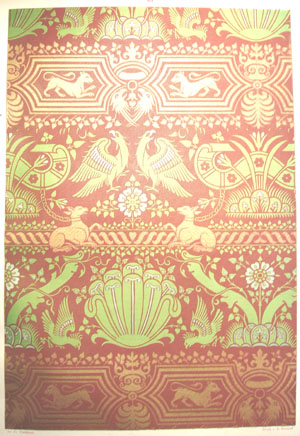 FISCHBACH, Frederick. ORNAMENT OF TEXTILE FABRICS.
London: Bernard Quaritch, (1884). Large folio (17 1/2 x 14 inches). Quarter-morocco, marbled boards. 9 pages, 160 chromolighographic plates. First English edition.
Rare. Published by Quaritch in sixteen fascicles and here combined into book form. Fischbach's monograph concentrates on fifteenth to eighteenth century patterned tapestry, damask and brocade designs from France, Italy, and Germany. Some cover wear and chipping to the edges of a very few leaves, else a very good copy of a rare and important book.
$2,000.00